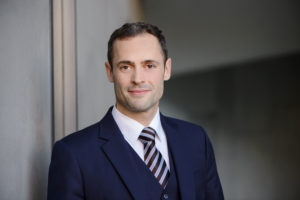 Prof. Dr. Peter Picht, LL.M. (Yale)
Chair
Prof. Dr. Peter Picht studied law in Munich, did his PhD at Munich University/the Max Planck Institute, and holds a LL.M. degree from Yale Law School. He has been working, i.a., in the EU Commission's DG for Competition and as a Senior Research Fellow with the Max Planck Institute for Innovation and Competition. Prof. Picht now holds a chair for Commercial Law at the University of Zurich and is head of the University's Centre for Intellectual Property and Competition Law (CIPCO). He remains affiliated to the Max Planck Institute as a Research Fellow and is an Of Counsel with the law firm Schellenberg Wittmer. Prof. Picht's academic teaching and writing, as well as his counseling activity, focus on intellectual property law, competition law, international private and procedural law.
Dr. Claudia Feller, LL.M.
Deputy
Claudia Feller is an attorney at law at Peterreins Schley Patent- und Rechtsanwälte. After completing her legal clerkship at the Higher Regional Court of Munich and the German Embassy in Madrid, she worked for several years as Academic Associate at the Chair for Business Law and Intellectual Property at the Technical University of Munich and as attorney at two international law firms. She obtained a doctoral degree on the topic of FRAND-Declarations with a scholarship of the Max Planck Institute for Innovation and Competition. Claudia also holds a master´s degree in European and International Business Law (LL.M.eur.) from the Ludwig-Maximilians-University, Munich and a master´s degree in Intellectual Property Law and Policy (LL.M.) from the University of Washington, Seattle.
Dan Bauer
Finance, Initiator
Dan Bauer is an award-winning multi-entrepreneur, visionary, and pioneer. He is the initiator of Germany's largest digital initiative, the "Mission TOP 5", in which numerous personalities from the German economy are involved. In 2019, Dan was appointed Senator of the Economy in the Bundestag in Bonn. Two years later, he was appointed Chairman of the Commission for Digital Future and has since been leading the development of impulses for the Federal Government. Dan is also the initiator of the IPDR Forum and other economic development projects. He is a thought leader, advisory board member, and trusted advisor for medium-sized companies. In his free time, he plays various instruments and flies Airbus A321.
Raffael Probst
Administration, Public Relations
Raffael Probst is a commercial mediator and strategy consultant in Berlin and Frankfurt am Main. Previously, he worked for the Federal Ministry for Food and Agriculture and acted as managing director of the Munich Center for Dispute Resolution (MuCDR). Raffael teaches negotiation and mediation at the LMU Munich and the Leibniz Universität Hannover. He was awarded for an entrepreneurial project by the Federal Ministry for Economic Affairs and Energy. His legal education includes stays in Munich, Athens and New York.
Peter R. Slowinski, J.S.M. (Stanford)
Peter R. Slowinski is a research fellow at the Max Planck Institute for Innovation and Competition in Munich as well as an attorney at law and certified mediator in Germany. Before joining the Max Planck Institute he has been working as an attorney in the Munich office of a US law firm with a focus on patent litigation and technology focused transactions. He represented clients in the major German district courts and appellate courts as well as the Federal Patents Court und the Federal Supreme Court in nullity proceedings. Peter obtained his legal education at the Universities of Passau and Munich in Germany, Cardiff in Wales and the Stanford Law School in the USA. At Stanford he conducted a large scale study on patent mediation in Germany and obtained a Master of the Science of Law (J.S.M.) as part of the Stanford Program in International Legal Studies (SPILS).
Klaus Haft
Klaus obtained his physics degree in 1997, became an attorney in 2002, and advises on patent infringement litigation cases, subsequent litigation regarding damages as well as licenses in the entire area of intellectual property law, particularly in the fields of patents. His particular focus is on electronics, semiconductors, software, standards, optics, electrics and general mechanics.He studied in Würzburg and Munich. He completed his degree thesis in 1997 as a member of the Spin Muon Collaboration at the European Center for Particle Physics, CERN, in Geneva, Switzerland. Parallel to his studies, he started in 1990 to specialize in intellectual property law and, in particular, in patent law. Klaus is Past President and member of the advisory board of the European Patent Lawyers Association (EPLAW) as well as board member and Past-Secretary of the Licensing Executives Society (LES) Germany.
Anna-Lena Klein
Anna-Lena Klein has been a judge at the Regional Court Munich I since December 2014. For 2,5 years, she was a member of the 7th (patent) division and Deputy Press Officer. Since the beginning of 2020, she also acted as conciliaton judge (Güterichterin) in several IP cases. She started her career as a judge in Weilheim in 2009, prior to serving as a public prosecutor in Munich. From 2011 to 2014, she was seconded to the Bavarian State Chancellery. During her secondment, she was inter alia occupied with European IP law and the UPC. Anna-Lena Klein obtained her legal education in Würzburg and Munich and spent several months in New York and Hong Kong.
Lisa Glaser
EXECUTIVE MANAGEMENT
Lisa Glaser is a dispute resolution partner assistant at the international law firm Simmons & Simmons LLP. Lisa studied at Fremdspracheninstitut der Landeshauptstadt München (FIM) and completed state examinations qualifying as foreign-language correspondent and later on as translator with a specialisation in economics. Before moving to Simmons, Lisa worked as an IP administrator and patent translator at a Munich-based patent law firm.
Dr. Matthias Zigann
Chairman of the Advisory Board
Dr. Matthias Zigann is a designated legally qualified judge at the Unified Patent Court (Local Division Munich) and Presiding Judge at the Munich Higher Regional Court. There he is heading the 38th Civil Senate since November 2022. From December 2012 to October 2022, he presided over the 7th (Patent) Division of the Munich Regional Court I. Prior to his appointment as presiding judge he was seconded to serve as a research associate with the Xth Civil (Patent) Senate of the German Federal Court of Justice in Karlsruhe for three years. From 2003 to 2009 he served as a regular member of the 7th Division of the Munich Regional Court I. From 1999 to 2003 he served as a public prosecutor in Landshut.
Dr. Zigann is an alumnus of the Munich Max-Planck-Institute for Innovation and Competition, chair of the advisory board of the Munich IP Dispute Resolution Forum, co-editor and co-author of the Beck Online Commentary UPC (to go online end of 2023), co-author of Haedicke/Timmann, Handbuch des Patentrechts, and co-author of Cepl/Voß, Prozesskommentar zum Gewerblichen Rechtsschutz, and a frequent speaker at national and international conferences.
Dr. Stephan Gruber
Dr. Stephan Gruber is active in trademark and competition law, both forensic and consulting. He specializes in patent and utility model law. He regularly handles patent infringement and nullity proceedings in all technical areas, with a focus on electronics and electrical engineering, mechanical engineering, chemistry and medical technology. In addition to his many years of experience as a litigator in patent and trademark law. Dr. Stephan Gruber regularly publishes in specialist publications. He is the publisher and co-author of a textbook on European and international patent law which has now been published in its seventh edition. In the commentary on trademark law "v. Schultz", he comments on the law on company trademarks. Stephan Gruber teaches and lectures on national and international patent and trademark law.
Dr. Tilman Niedermaier, LL.M.
Dr. Tilman Niedermaier is a partner in the dispute resolution department of CMS Hasche Sigle in Munich. His practice focuses on complex trans-border disputes. He regularly advises and represents clients on matters related to distribution and procurement issues, acquisitions, joint ventures and large-scale projects. As counsel and arbitrator, Dr. Niedermaier has acted under various institutional and ad hoc arbitration rules.
Dr. Niedermaier studied at the Universities of Munich and Geneva. He holds a master's degree from the University of Chicago and a doctoral degree from the University of Göttingen. Dr. Niedermaier regularly publishes in the field of international arbitration and is a frequent speaker at conferences. He is lecturer for international procedural law and arbitration law at the University of Halle-Wittenberg.
Dr. Gisbert Hohagen
Dr. Gisbert Hohagen is an attorney-at-law and partner at the law firm Taylor Wessing. He specialises in national and cross-border patent litigation, particularly in the technical fields of pharmaceuticals, medical devices, chemistry and mechanical engineering, and advises national and international companies on patent strategies, infringement analyses, licensing as well as R&D agreements and employees' inventions. In view of the upcoming Unified Patent Court system, Gisbert Hohagen also advises clients on legal enforcement issues and applicable IP-strategies and is invited as speaker on this topic at national and international seminars and conferences. Gisbert Hohagen studied law in Munich and at the Université Panthéon-Assas in Paris where he earned the Diplôme de Licence en Droit. Between 1998 and 2003 Gisbert Hohagen worked as a research fellow and head of department at the Max Planck Institute for Intellectual Property, Competition and Tax Law in Munich.
David Perkins
David Perkins is an English solicitor and former partner at Clifford -Turner/ Clifford Chance (1972-2003) where he established and headed its Intellectual Property litigation practise in London, Amsterdam, Barcelona, Milan, Paris and Hong Kong. He then served as a partner with the London offices of Milbank Tweed Hadley & McCloy (2003-2009) and Arnold & Porter (2010-2013).
He currently serves on the Arbitration and Mediation Panels of WIPO (World Intellectual Property Organisation); JAMS International; AAA/ICDR (American Arbitration Association/ International Center for Dispute Resolution); SIAC/SIMC (Singapore International Arbitration and Mediation Centres); HKIAC ( Hong Kong International Arbitration Centre); KLRAC ( Kuala Lumpur Regional Arbitration Centre); SCIA (Shenzhen Court of International Arbitration); PIAC ( Pacific International Arbitration Centre); and NAF (National Arbitration Forum). He has also chaired an ICC Dispute Resolution Board and served as arbitrator for IFTA (Independent Film & Television Alliance). He is a Member of the CIArb (Chartered Institute of Arbitrators).
He was a member of the UK Government's former Intellectual Property Advisory Committee (IPAC); a Council Member of The Intellectual Property Institute (IPI), formerly The Common Law Institute of Intellectual Property (CLIP); a Founding Member of The Intellectual Property Lawyers Organisation (TIPLO); and is currently an Executive Committee Member of UNION-IP and a member of the European Patent Lawyers Association (EPLAW). He has served as an instructor for the annual WIPO Arbitration Workshop since 2002.